Engineers Without Borders India
(EWB-MEC)

Student Chapter

The objective of the MEC-EWB Student Chapter of "Engineers without Borders" India is to implement sustainable development Projects for the benefit of economically weaker sections of society, while training its members to become Project Mentors and Leaders with the motto of "Leadership through Service". Basic objective is to create Global Humanitarian Engineers and Global Leaders with Social and Moral values. In the pursuit of the objectives, the chapter will operate in accordance with the Constitution and bye-laws of EWB-India.

The Student chapter of "Engineers Without Borders"-India was established at our Mahendra Engineering College by Shri.Rajiv Lal, Director, EWB-Hyderabad on 25th Nov'18. The chapter certificate was handed over to our Honorable Chairman Thirumigu. M.G.Bharathkumar, Mahendra Educational Trust in the presence of Dr.R.V.Mahendra Gowda, Principal, Mahendra Engineering College (Autonomous). The inspiring speech recorded during the inaugural session was highly encourageable to the students and faculty members.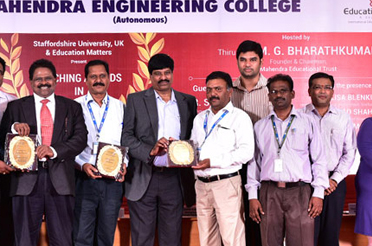 Inauguration of " Engineers without Borders" - India - MEC Student Chapter